To some, the 'Southern Capital' might be just another stop on the Beijing-Shanghai high-speed rail line, but a few recent recce trips to Nanjing have reminded us just how much fun it is to explore. Given that the city has been the capital of China at least seven (or more, depending on who you ask…) times over the years it really shouldn't come as a surprise that it's so chock full of historic hidden gems, as well as some excellent eating and drinking opportunities. At just an hour on the gaotie from Shanghai (or just over 3 hours from Beijing), we reckon this is one of the best weekenders out there.
Nanjing's most recent stint as the capital started in 1927 when Chiang Kai-shek made this his center of power and invited both Chinese and leading western architects to transform it into a thoroughly modern metropolis. In June, we're running two expert-led group tours to the city in collaboration with Historic Shanghai: 'The Nanjing Decade' weekend tour will take in the very best of the 20s and 30s architecture here and include, amongst other sights, a handful of the hidden gems we're sharing below (others can be visited independently).
1.The OG Hipster Book Store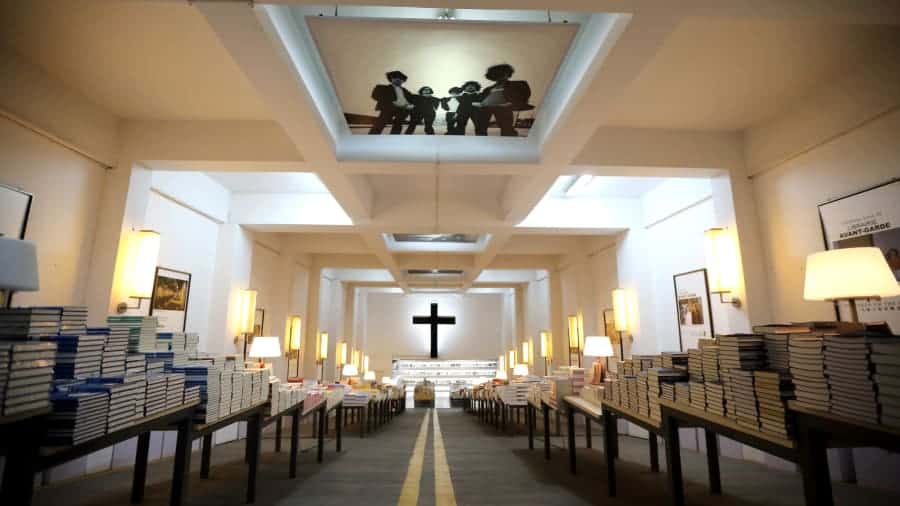 We've become used to almost every Chinese city having bookstores that are as cool as can be, but we guarantee you that none can match the pedigree of Nanjing's own Librairie Avant-Garde (先锋书店). Owner Qian Xiaohua opened his first store back in 2004, hidden in an underground parking lot near Wutaishan Stadium. This cavernous store has acres of space to read and relax as well as a café, second-hand section and performance stage. Qian has gone on to open many more bookshops throughout Nanjing and China, each of them in unique and often historic locations. We also like the Yihe Lu branch, which has a small but excellent section on Nanjing's architectural heritage.
Librairie Avant-Garde Wutaishan Branch: 173 Guangzhou Lu, Gulou District. Tel +25 8371 1455
2. The Ode to Cinema's Golden Age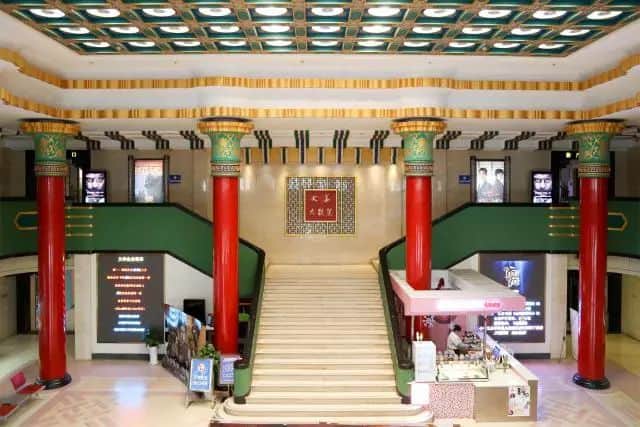 Shanghai was one of the world epicenters of film in the 1930s, so it's unsurprising that nearby Nanjing would have a glorious Art Deco cinema like the Dahua. Opened in 1934, it has, quite literally, been through the wars, and whilst the main auditorium that once seated 1,300 people has been carved up into smaller auditoriums, this remains a working movie theater and anyone is invited to enter and enjoy the wonderful lobby,
Dahua Cinema: 67 Zhongshan Nan Lu. Tel: +25 8471 1797
3. The Secret Shinto Shrine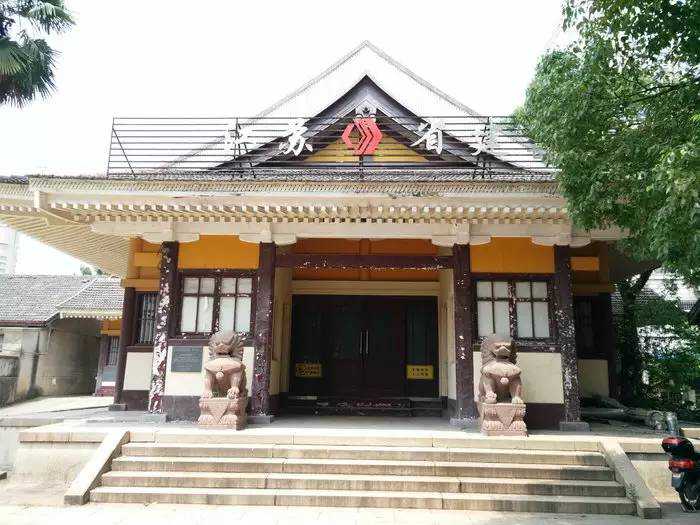 Nanjing's history with Japan is a difficult and sensitive topic to say the least. That probably at least partly explains why visitors are not exactly encouraged at the site of this former Shinto shrine that was built in 1942 during the city's occupation – and is said to have been modelled after the Yasukuni Shrine in Tokyo.  Currently home to the Jiangsu Province Sports Bureau, catching a glimpse of this almost entirely off-radar spot requires advanced-level lane hopping and bao'an dodging skills and thus comes with a clear 'at your own risk' label attached.
Former Site of Shinto Shrine, 1 – 3 Wutaishan, Gulou District.
4. The Old Embassy District
This quiet corner of Nanjing, locally referred to as Yihe Lu (颐和路), has loads of atmosphere but unlike some of the more touristy bits of town (hello Fuzimiao and Laomendong) sees very few visitors. During Nanjing's most recent stint as China's capital in the 1930s, this was the city's embassy district and it retains a sophisticated feeling, with plenty of grand mansions as well as leafy backstreets to explore. The tiny visitor center at the intersection with Jiangsu Lu has a model of the area to get you started, and then explore from there. Stop for a coffee at swanky Yihe Mansions hotel when you need a break.
Yihe Mansions: 3 Jiangsu Lu, Gulou District
5. The Sauce & Staff Only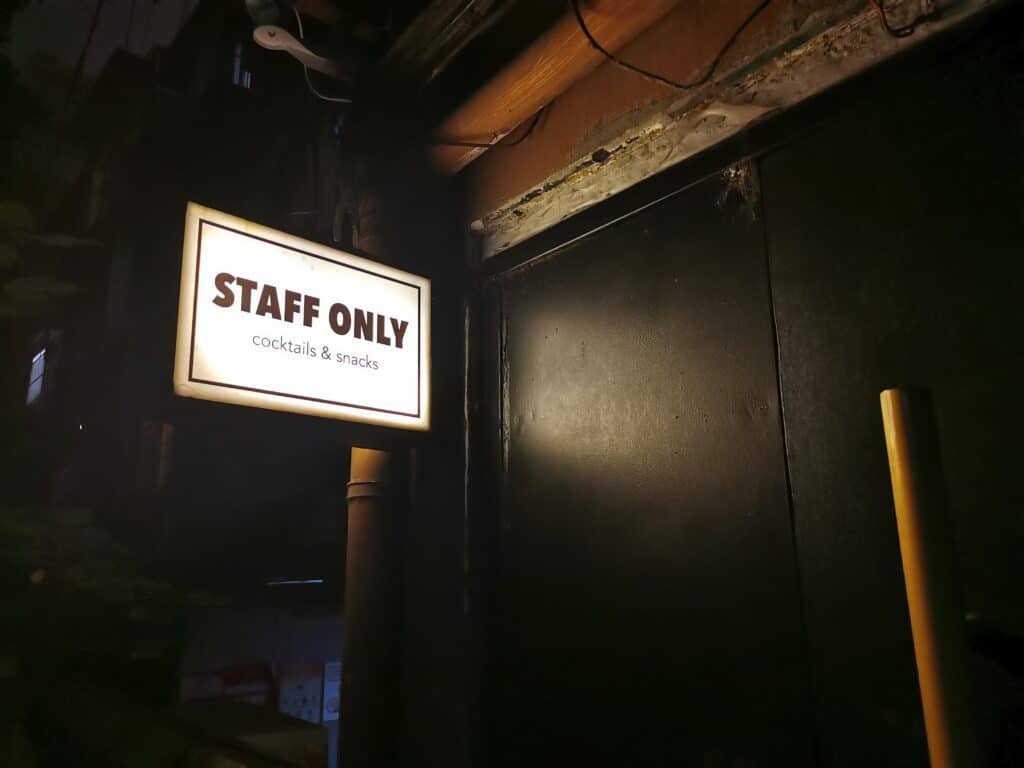 Yes, Nanjing does cocktails! The hippest bars in town are all hidden in the lanes around the Nantaixiang area just west of Xinjiekou. Start off at The Sauce, where owner Ryan mixes top-notch drinks. At his suggestion, we took a gamble on the Pizza Gimlet (gin, basil, parmesan…!) and were pleasantly surprised. His tips then led us around the corner to the buzzing Staff Only, buried deep in a back alley (you will almost certainly need to ask for directions). The tattooed bartenders here make you feel both warmly welcome and deeply uncool. In addition to excellent smoky cocktails, they also specialize in natural wines, as well as genuinely local snacks – stinky tofu, spicy pig's ear – to pair them with.
The Sauce: 57-4 Wangfu Dajie. Tel: 153 7101 0999. Staff Only: 10-102 Nantaixiangxi. Tel: +25 8630 3036. 
6. The Modernist Pagoda Designed by an American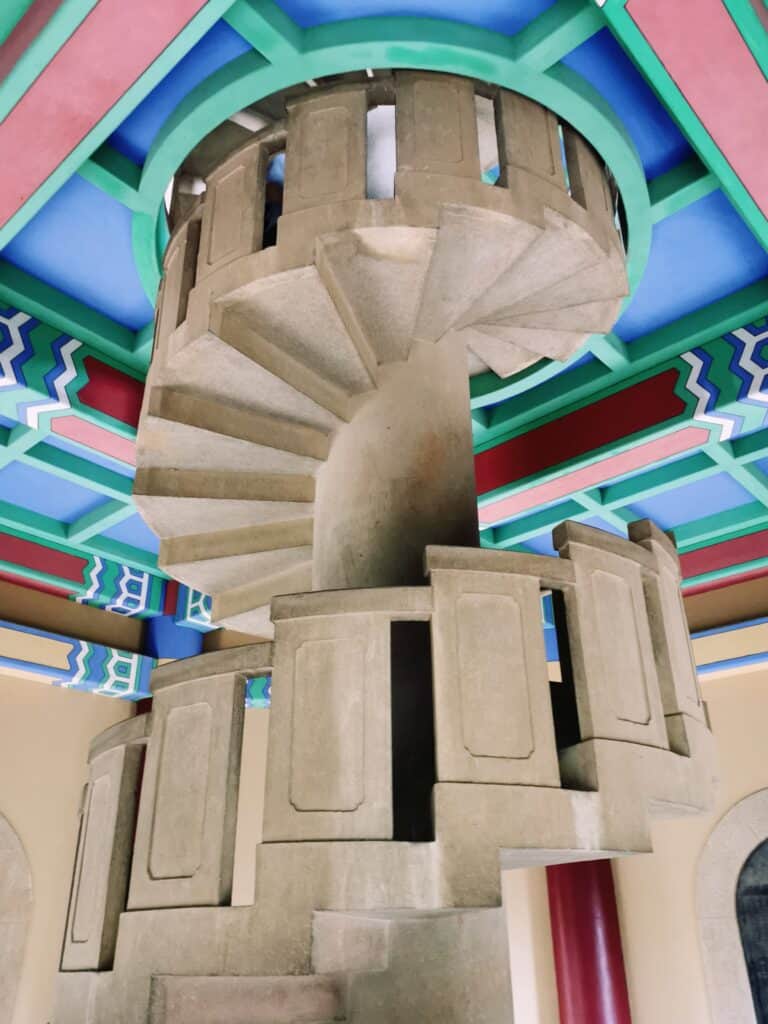 Don't dismiss Linggusi as just another old temple – there's way more than meets the eye here. The pagoda at the back of the complex houses a striking Chinese Art Deco style staircase and was designed in 1931 by American Henry K Murphy, a favorite of President Chiang Kai-shek, as a memorial to the soldiers that lost their lives in the Northern Expedition. He also oversaw the intriguing 'Chinese Village' in Coral Gables, Florida, which bears a noticeable similarity to much of the Republican-era architecture in Nanjing
Linggu Temple and Pagoda: Xuanwu District. Tel: +25 8444 6443.
7. Soong Mei Ling's Sumptuous 'Palace'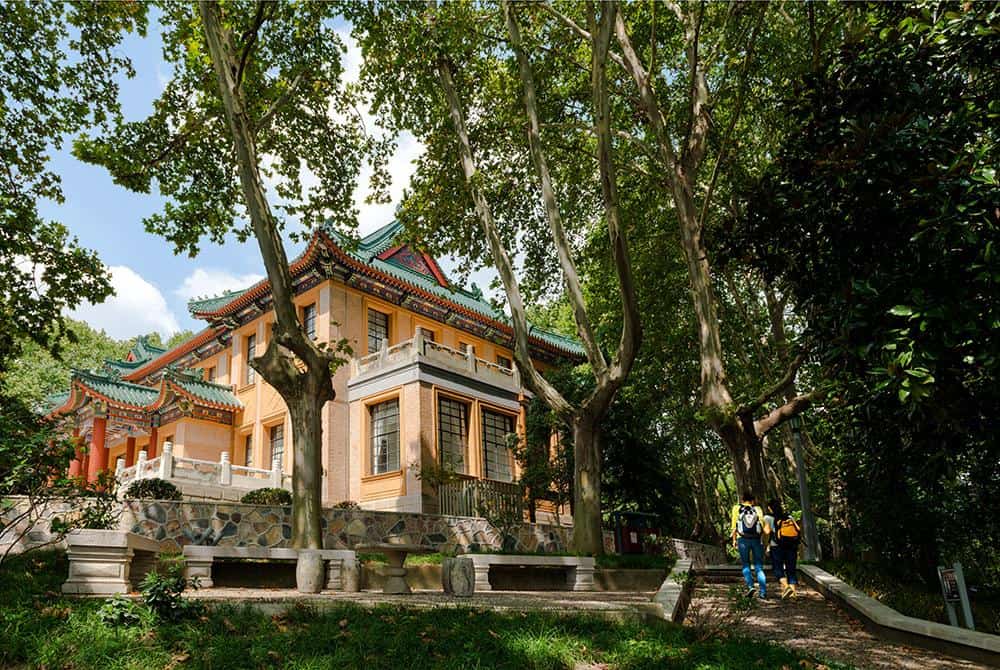 If you're looking for a splash of 1930s decadence, come to this leafy and fabulously colourful mansion on Purple Mountain, which offers some of the best examples of Chinese Art Deco anywhere. It was designed to be the extravagant official residence of China's first couple in their new capital, and the official commentary can't help but sneak in a few cheeky jabs at Meiling's apparent taste for both tobacco and booze. Frankly, we'd have been more than happy to join her for a Martini on the lovely terrace here.
Mei Ling Gong: 9 Zhongshanling, Xuanwu District.
8. The Abandoned Railway Station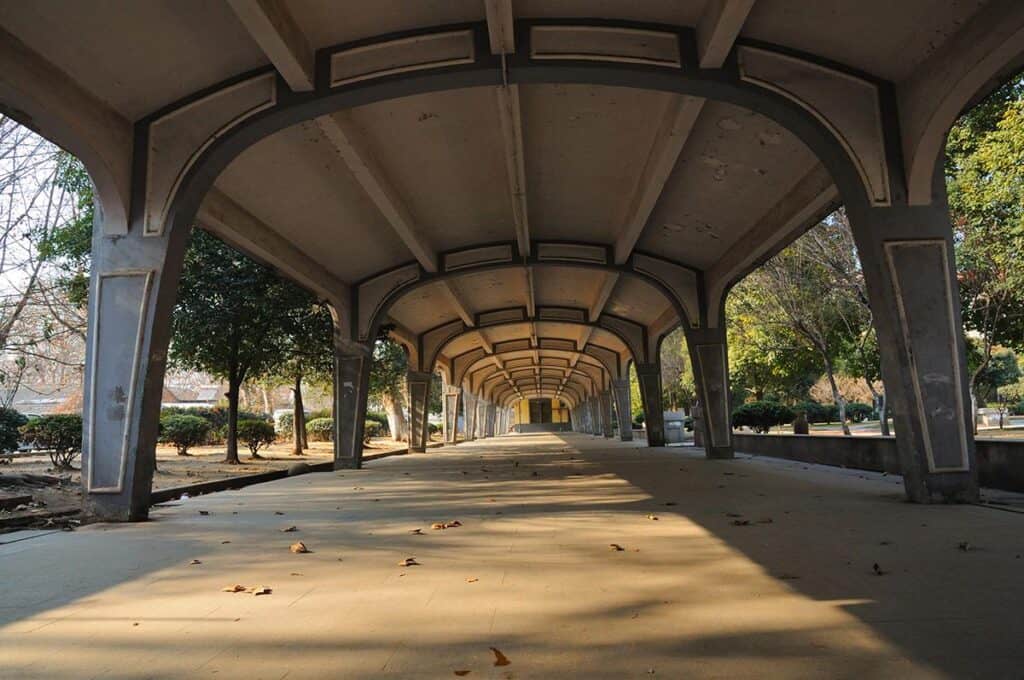 Train geeks and adventurous urbex types should take a deep dive into Nanjing's gritty Jiangbei ('North of the Yangtze') area. Earmarked as a future free trade zone, this feels like a historic neighborhood in its final days. It's hard to believe that Pukou Station (aka Nanjing North) would have been one of China's most important and modern railway hubs when it was built in 1914. Back in the day, trains were boarded onto ferries here to cross the Yangtze and continue their journey from Tianjin to Shanghai. These days, the station lies abandoned, hosting local card games and serving as a backdrop for the occasional period TV drama.
Pukou Station: Julong Lu, Dongshantou Cun.
9. The New Face of Buddhism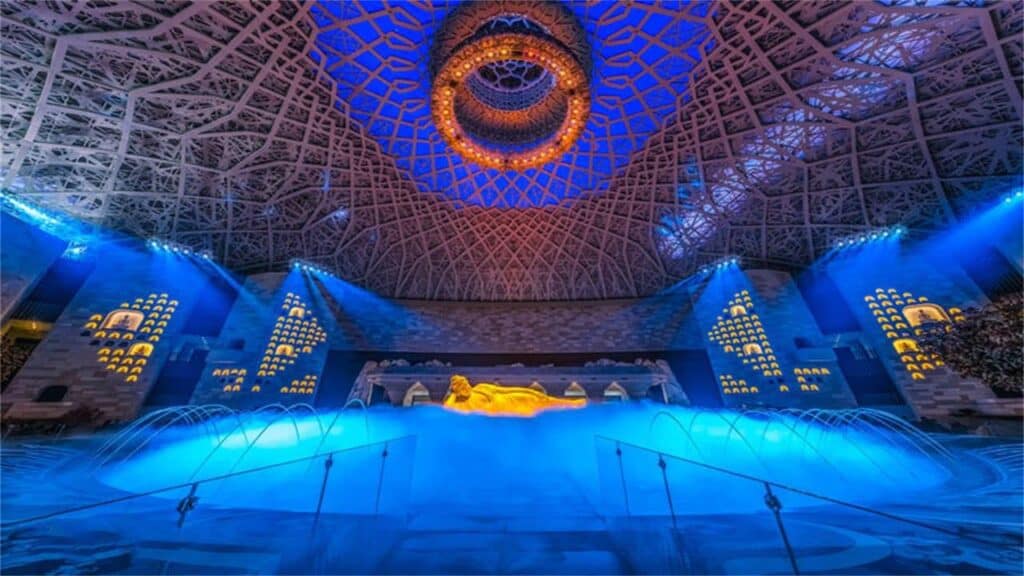 If your idea of a proper Buddhist temple starts and finishes with a crumbling Tang Dynasty relic then prepare to have your boundaries pushed by Niushoushan. This unapologetically contemporary 'cultural park', built at truly vast expense on a mountain just outside of the city center, claims to be the home of a Sakyamuni skull fragment and, whatever the truth may be, this is one of the most surreal sights we've ever encountered in China. Exploring the complex you'll be taken on a wild ride past thousands of the most gleaming, golden buddhas you have ever laid eyes on, set in indescribably sumptuous prayer halls through which dry ice is occasionally deployed with dramatic effect. Religion has never seemed so fun!
Niushoushan Cultural Park, 18 Ningdan Dadao, Jiangning Distirict. Tel: (+86) 400 165 6363.
10. The Tiny Hotel & The Iconic Bridge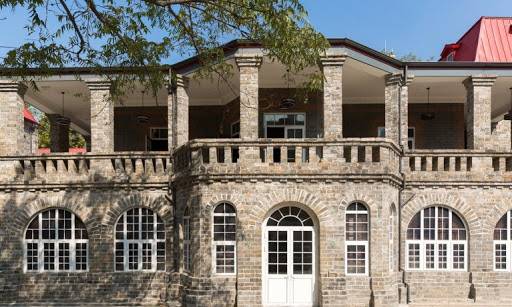 In a sleepy suburb on the banks of the Yangtze river lies this tiny, seven-room hotel that was constructed entirely from bricks removed from Nanjing's city wall in 1914. Back in the day, this would have been the best hotel for miles and a welcome sight for those traveling China by river. It's a bit far out of town to recommend staying here these days, but it makes a fine starting point for a bike ride or walk north along the Yangtze, past the imposing Zhongshan Wharf and lots of other grand but neglected 1930s architecture (keep an eye out for Dama Lu where much of this is located). You can even continue on and bike across the Yangtze River Bridge, a vast socialist-style structure that houses a huge Mao statue, and changed the face of transportation in China when it was built in 1967, as well as featuring in plenty of propaganda posters.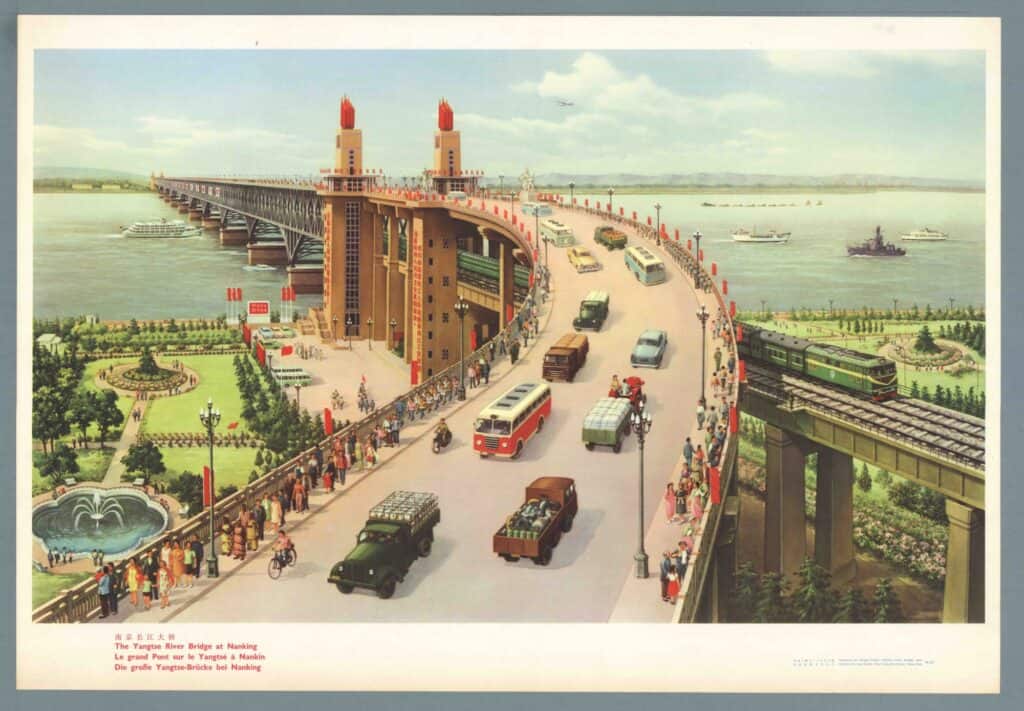 Yihe Yangtze Hotel: 2 Baoshan Street, Gulou District. Tel: + 25 8486 8888. 
Have we piqued your interest? Our 'Nanjing Decade' tour will run twice this June: on the 4th – 6th (currently waiting list only) and again on the 25th – 27th (available). The tour will be led by expert guides Patrick Cranley and Tina Kanagaratnam. If you are interested in joining, please contact [email protected] for a detailed itinerary, pricing and booking information.
The itinerary includes stops at the Dahua Cinema, Linggu Pagoda and Mei Ling Palace, as well as other key sites like the Presidential Palace, Sun Yat Sen Mausoleum and several of the city's historic university campuses. We also arrange private tours to many other destinations across China, take a look at our website.