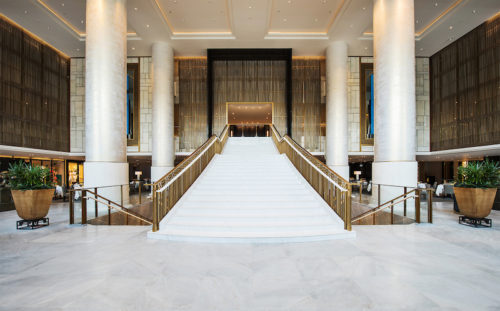 It was hard for us to imagine how the Peninsula Beijing was going to spruce itself up enough to alter our perception of it – but by Jove, they've only gone and done it.
Gone is the men lou (traditional wooden gate) that characterized the front of the 1980s-built hotel, and in its place is a stunning gold façade.
Now more like it's sexier Shanghai sister hotel, the refit has transformed the lobby entirely. Now what dominates is possibly the most glamorous staircase we've ever seen (we challenge you to walk on it and not feel like a star). Meanwhile the all-day dining tables fill more of the lobby than they used to, creating an elegant space for tea or coffee.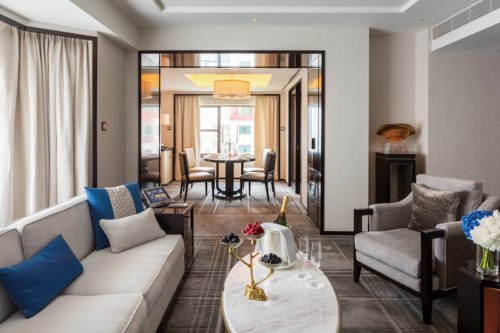 The bigger, refitted rooms won't be ready until later in 2016. The Peninsula has cut the number of rooms in half to make each more spacious. They've also added a raft of state of the art in-room amenities (we've tried them out, they're ace).
However for now, we strongly recommend a drink in the new Jing Bar, which has an air of 1920s meets Swinging 60s New York glamor about it. With its minty-fresh interior and expertly made cocktails, we think it could become a go-to in its own right.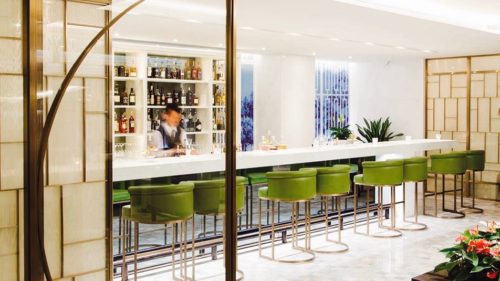 The Peninsula Beijing 8 Jinyu Hutong, Wangfujing, Dongcheng district (8516 2888; www.beijing.peninsula.com)
Need help booking a hotel? Just get in touch!