It becomes an unconscious nightly ritual. As 7.30 pm approaches in Yangshuo, those of us that aren't residents (in other words those that aren't yet totally blasé) suddenly become conscious of where we are standing. As the gloaming hour approaches, the dusky shades of pink and orange that begin to emanate from the sinking sun are so striking, so painterly and pretty when set against the extraordinary landscape, that you find yourself imbued with a primeval desire to see the source of this mesmerizing explosion of color.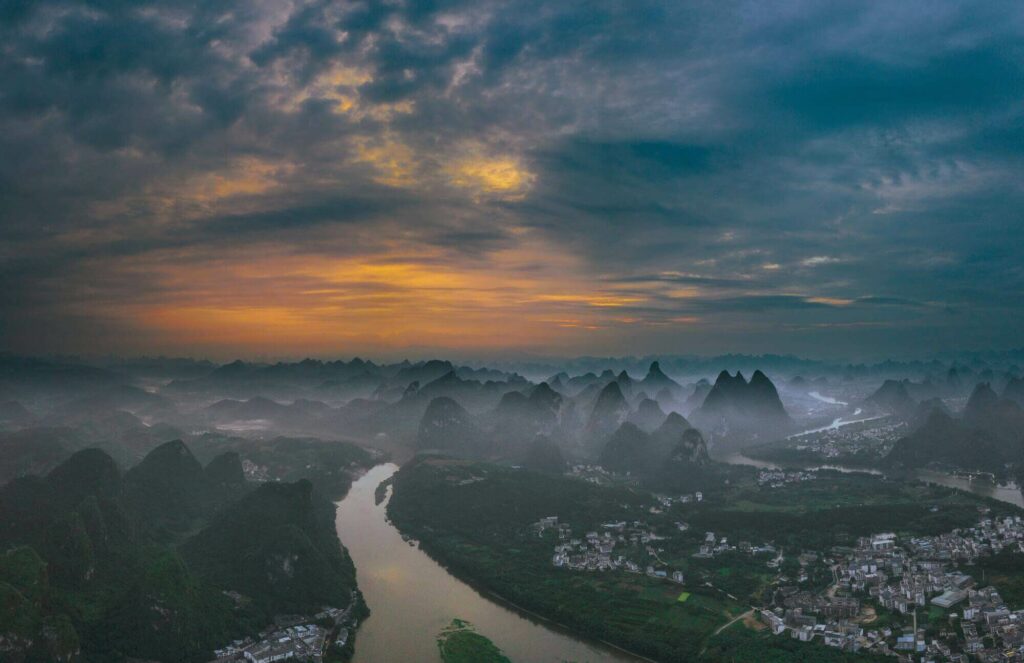 If your view is obscured by the region's iconic karst mountains – which turns out to be fairly likely given that 80% of the province is covered in them – the need to find a spot with a direct line of sight becomes an urgent mission.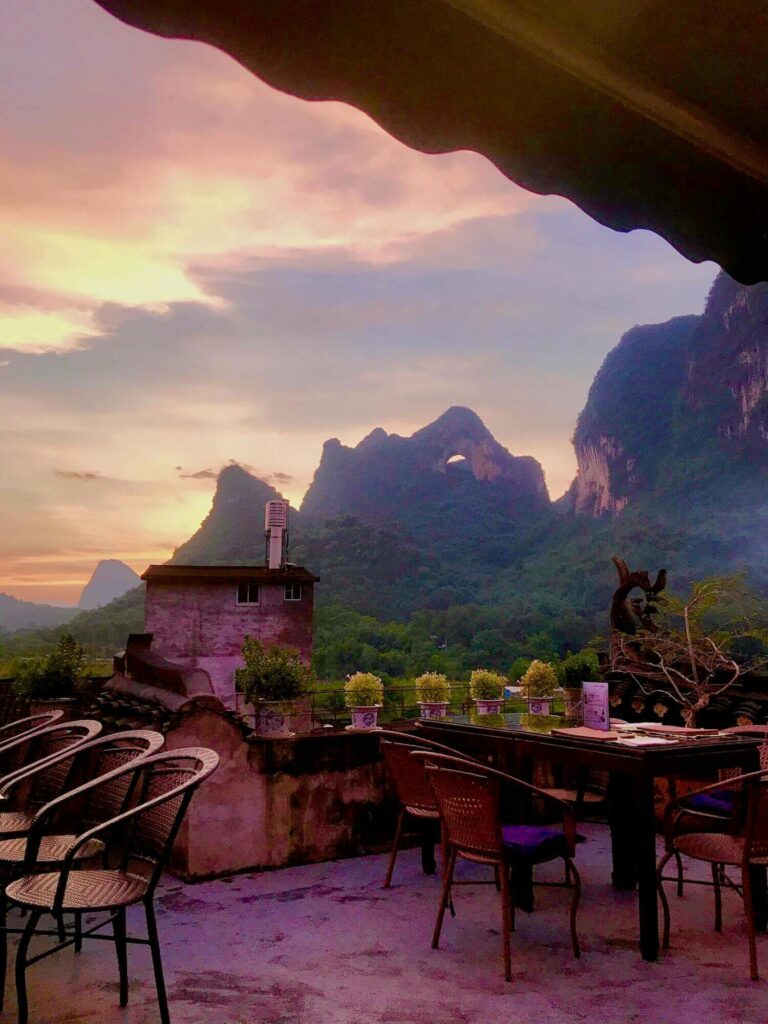 People hop on bikes to cycle upstream along the Yulong river, or to wait, camera-ready, on bridges that straddle it. Some are more organized and already atop one of the mountains with a clear view to the west. And others realize they must be content with the view they have, knowing that time is short.
For anyone that has been to Yangshuo, a county in China's southern Guangxi Province, it often remains one of the most beautiful places they have ever visited. Even my sister, when she knew I was returning, commented that after all these years it was still her favorite. "Much better than Vietnam's Halong Bay," she adds.
Yes, the topography may be its defining feature – mountains that rise and fall and surround you in every direction; up and down, up and down like an erratic ECG with softer curves – but its true charm often lies in the detail below.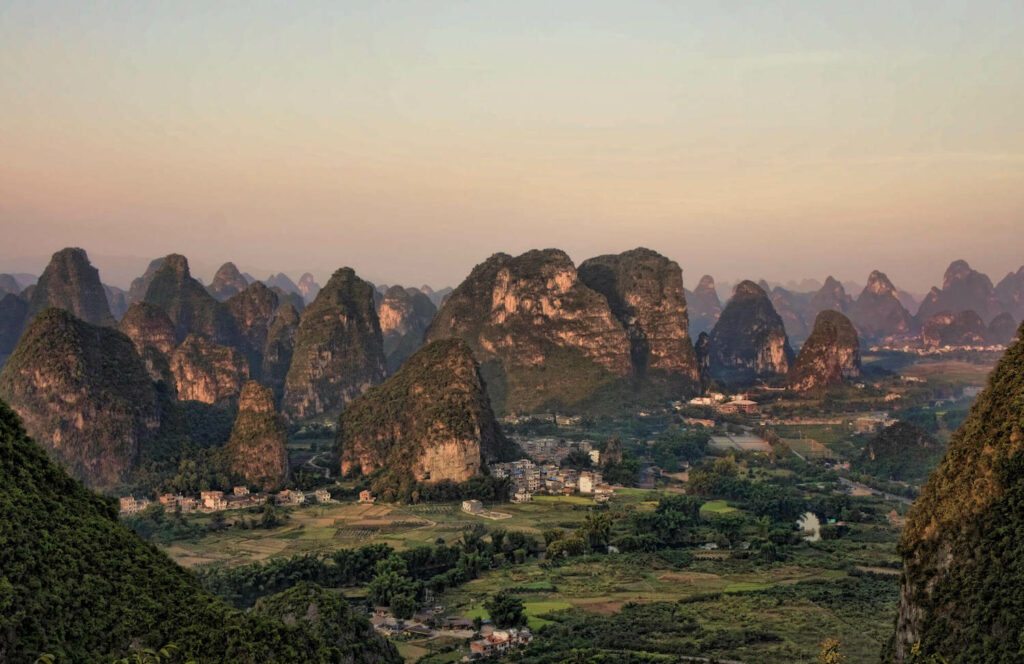 Yangshuo's rivers – the Li River and its smaller but prettier tributary the Yulong – flow gently past ancient towns made of stone and wood; past enormous towering clumps of Phoenix Tail bamboo that bloom spectacularly over the water; past river banks teeming with bamboo rafts, their oarsmen waiting to ferry passengers downstream. And of course these days, past carefully-designed boutique hotels, whose delighted occupants get to hear the sound of the water bubbling away as they bed down each night in paradise. When compared to China's other provinces, the population of Guangxi and surrounding counties like Yangshuo is tiny. And yet it's home to no fewer than 5 of China's 55 ethnic minorities, all of them known for their traditional dress, hairstyles, and adornments.
From the Miao people, whose women wear an abundance of hand-beaten silver jewelry that makes a soft 'tsch-tsch-tsch' sound when they walk (to attract the attention of the Miao men); to the Zhuang minority with their thousand-year-old folk songs, it's perhaps no wonder that their culture seems so much more colorful and exciting than that of the capital's – 2,000 kilometers away in the dry and dusty north.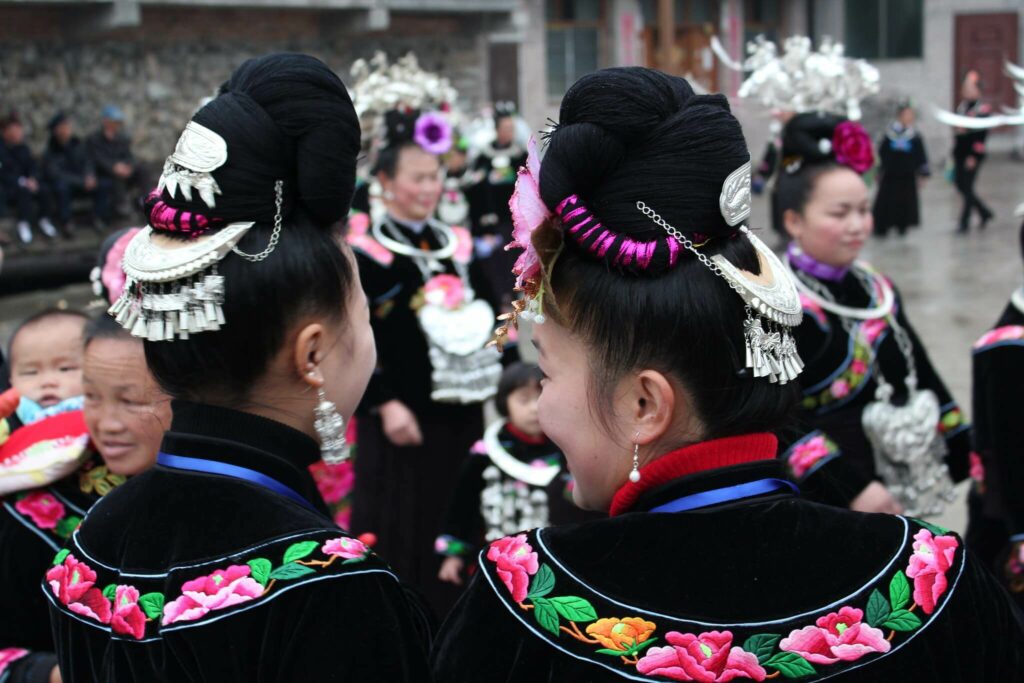 A short ride through Yangshuo's sprawling farmland yields sightings of everything from kumquat orchards and banana groves to soil bursting with sweet potato and taro. Sugarcane, passion fruit, persimmons, oranges, and pomelo are all grown here too; the latter being a more recent addition when farmers realized these chichi fruits fetched a better price at the market than rice.
The vast patchwork of rice paddies still remains of course, almost constantly tended to by locals whose families have worked the waterlogged fields for generations; and not least because this Chinese staple has allowed them to be self-sufficient at putting food on the table through the years.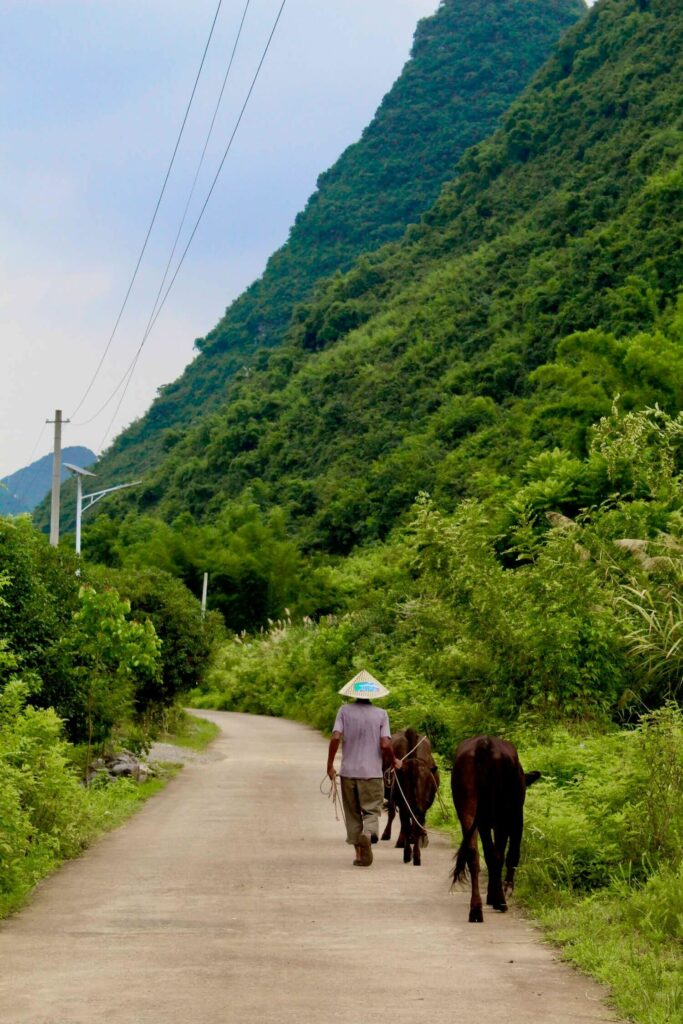 Travelers angling for an iconic picture will be pleased to know that conical bamboo douli hats are still the most lightweight and effective way of shielding farmers' eyes from the glaring sun as they do the labor-intense work of planting, cutting and managing the crops. And when they're not tilling the fields, the region's hulking, horned water buffalo are a thrill to behold whenever you spot them relaxing beside the river or scratching themselves on shaded tree trunks.
In fact, Yangshuo is so innately photogenic, it takes a Herculean effort not to pull out your camera every three seconds. But as with everything these days, that would be missing the point. To not drink in every second in real-time would be to do it an injustice since one of the reasons to escape to Guangxi in the first place is to get some downtime in nature after experiencing the incredible pace and excitement of cities like Shanghai and Beijing.
This is the part of the country that coaxes you to hop on a mountain bike for a day of cycling through epic farmland, or to take a dip in the Yulong as the sun sets; to delve into subterranean caves to marvel at stalactites and stalagmites that have formed into all manner of whimsical shapes; or to scale a craggy mountain with your bare hands (if you're the adventurous type – Yangshuo has world-class rock climbing).
And, unlike 15 years ago when the area was just beginning to bloom as a backpacker destination, it's now the setting for some jaw-droppingly gorgeous hotels. Destinations in their own right, these are resorts with swimming pools and views to rival any in Southeast Asia, albeit with a lush, subtropical vibe rather than a beachy one.
Perhaps our favorite is the Alila. Housed in a 1960s sugar mill, its chunky, manmade red-brick facades – in some cases still daubed with Mao-era propaganda slogans – stand in stark and satisfying contrast to the rugged natural landscapes behind them, and yet somehow manage to mirror their form at the same time.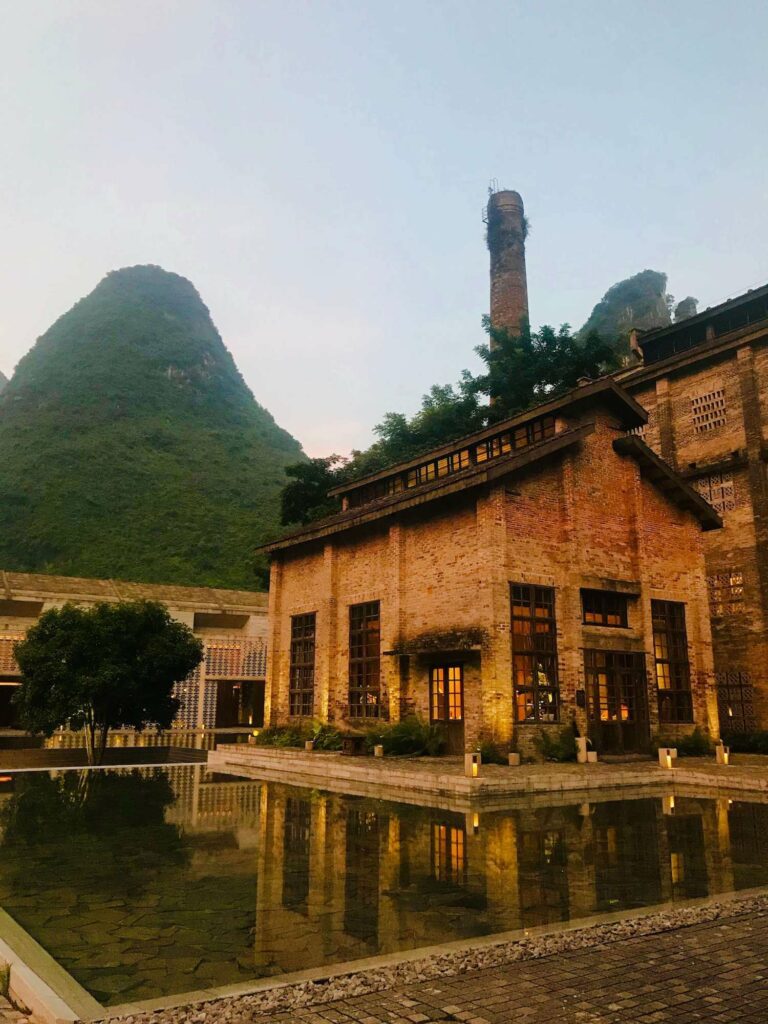 Granted, they had an incredible set of buildings to work with in the first place, but Chinese architects Gong Dong and Zhao Chongxin have seamlessly incorporated tiny details across the entire property that pay worthy tribute to its history and surroundings – from serene reflecting ponds to unexpected pathways through the dense undergrowth. Even the swimming pool is framed in spectacular fashion by a 16-pillar truss once used for transporting the sugar cane. All of this is to say that the entire place is achingly cool and probably one of the most 'grammable hotels we've ever stayed in. Not that we're on our phones again you understand…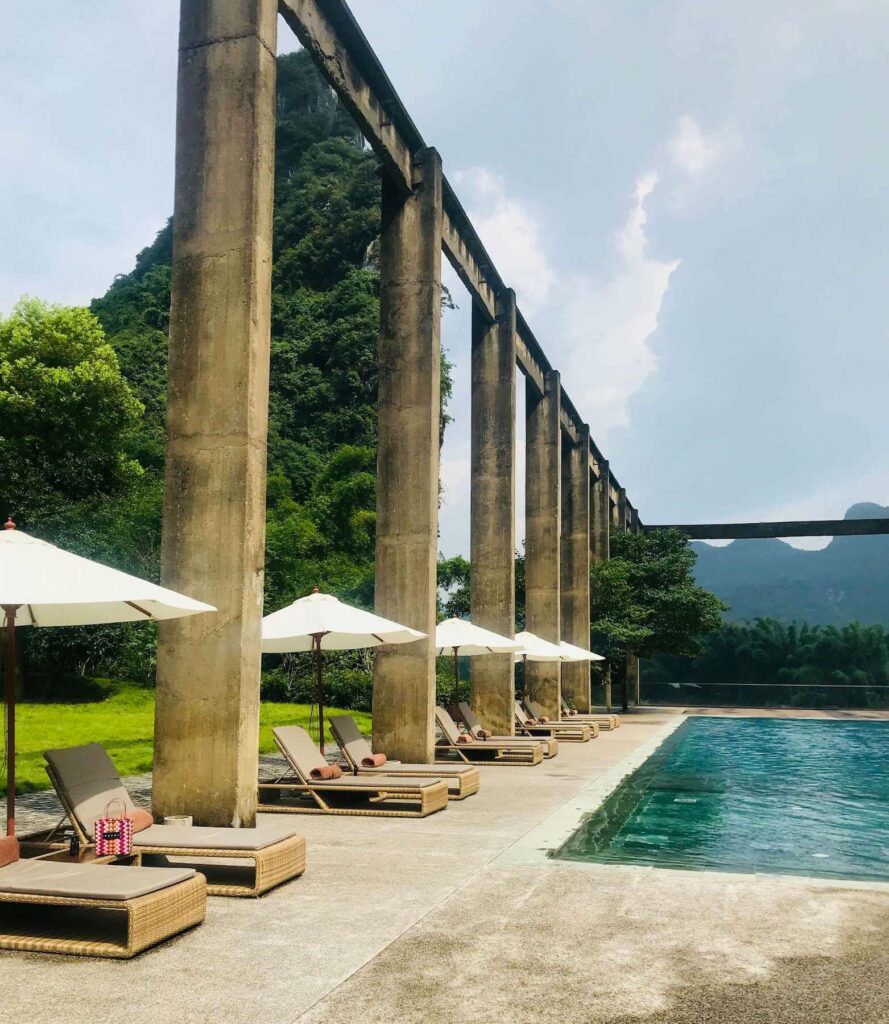 For complete relaxation, however, the nearby Banyan Tree Yangshuo covers an even bigger swathe of land, sprawling out before you like a mini kingdom that's yours and yours alone to explore. Scores of grey- roofed white villas – all reaching for the sky with their classical, southern-China-style peaked eaves, nestle peacefully between karst mountains and the Li River. Staff buzz about silently in golf buggies, tending to your every whim. Not a bad setting in which to completely switch off, book yourself a world-class spa treatment and digest everything.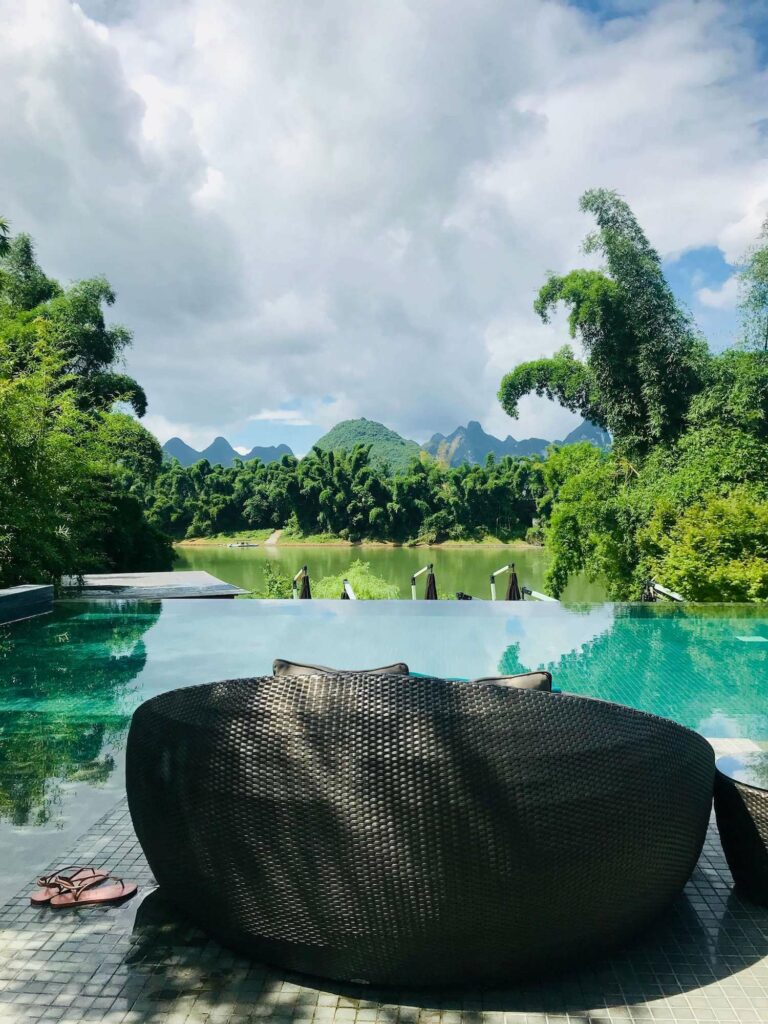 No longer just the preserve of the adventurous gap year student, then, it seems that Yangshuo in 2020 is, well… all grown up.
---
Bespoke now offers Guilin & Yangshuo as part of our China-wide tour packages. The perfect contrast to cities such as Beijing and Shanghai, it's a great destination for multigenerational trips, active families and those looking for a more rural China experience. Get in touch with us to book the perfect China trip.