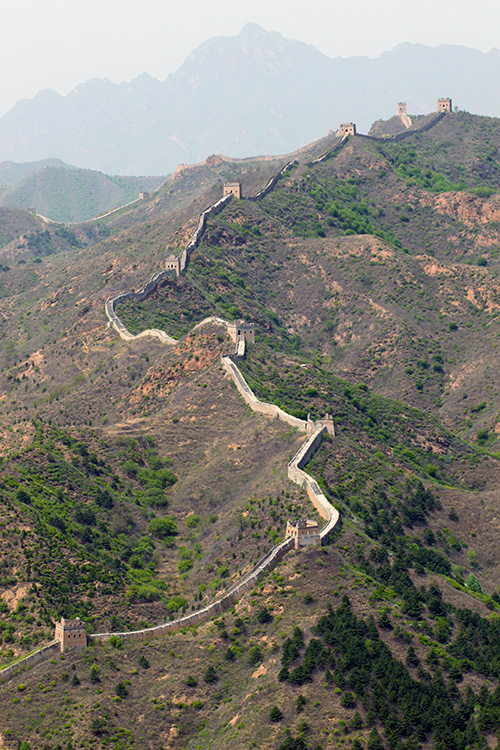 Woot! 10 of Simatai's watchtowers are re-open to hike
One of Bespoke's most recommended Great Wall adventures was the 4-hour, 10km trek from Jinshanling to Simatai across a stunningly scenic stretch of Ming-era Great Wall, so we were pretty upset when the Simatai stretch of watchtowers closed for renovations in June 2010.
In the years since, the Mutianyu and Jiankou sections of Great Wall have become our 'go-to' hikes, and when we heard Simatai had reopened, there was only one thing on our minds –"BESPOKE TEAM FIELD TRIP!"
Arriving on a Saturday morning, we made our way through the crowds of tourists who were being channeled through a brand-new development project at the entrance – an ersatz village in the Suzhou style called "Gubei Water Town". Though the buildings were still vacant, it's nicely done (although Suzhou is a long way south). We're desperately hoping they'll do something other than fill the buildings with cheap souvenirs.
Simatai's Gubei Water Town
Eventually reaching the main ticket office, the scale of the new tourist infrastructure is clear. A massive processing hall for visitors (this is the world's most populous country after all), some very nice toilets – even a children's playground!
There's a bit of red tape regarding tickets – all guests are required to make a reservation at least one day in advance and bring their passports/ID cards. Bespoke can organise this for you of course – just get in touch via [email protected]. Tickets are RMB 40, or RMB 80 including the Gubei Water Town.
A bus ride later and our frustrations quickly melted away. We opted to skip the cable car and clamber straight on to the wall at Tower 1 – this turned out to be a great idea. We skipped the crowds and found the battlements here as beautiful, dramatic and stirring as ever.
With our ready-made sandwiches, potato chips and fresh fruit we picked a quiet tower with plenty of sunshine and enjoyed an awesome spring picnic, before trekking all ten of the Simatai towers that are currently open to visitors.
To tower ten and back, it's about a 90 minute hike, with the number of tourists diminishing significantly after the third or fourth watchtower. Our goal was to head back to town before the late afternoon traffic rush; mission accomplished! We were back in central Beijing by 4pm. The verdict? The Gubei Water Town development is definitely optional – skip past if necessary and head straight to the Wall and you won't be disappointed.
Hiking Simatai Great Wall Tips:
Transport:
Simatai is located about 120 km (75 miles) northeast of Beijing (a 2 hour 30 minute journey from the city centre) and tickets must be reserved one day in advance. To book a Bespoke driver for a trip to Simatai Great Wall, just click here;
Walking Conditions:
Several sections are very steep but the conditions of the steps are good and there is a clear path throughout all 10 watch towers. Though the steps and pathways are safe, hikers still need to be aware of the difficulty. On a scale of 1-5 (with 1 being very easy and 5 being the most difficult), we rank Simatai a level 4. Note: it's currently not possible to do the hike between Jinshanling and Simatai due to ongoing renovations. Watch this space for more info.
What to Bring:
Comfortable shoes with good grip are a must. Bring snacks, layers of clothing and plenty of water and sun protection. Have fun!