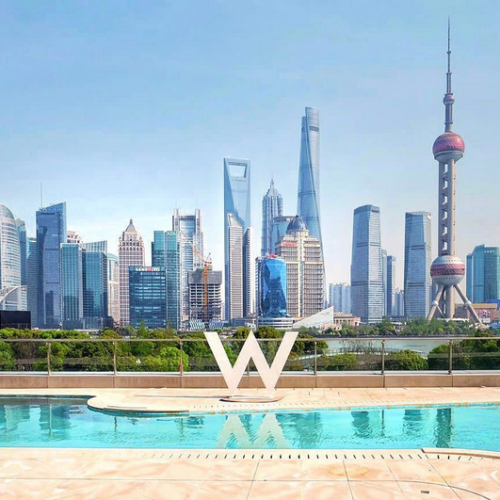 Confession time, folks. Bespoke rocked up at Shanghai's newly opened W Hotel with every intention of a thorough investigation of the hotel's particulars: its room sizes, its conference facilities, its dining venues and so on. And then we saw the swimming pool.
Sure, there is every chance that this summer's crazy temperatures have messed with our minds, but we're pretty darn certain that it's this little stretch of water by which the W will be defined.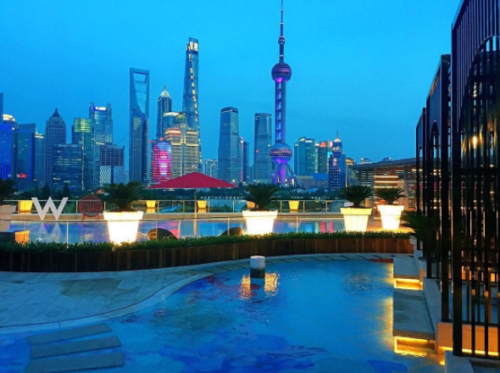 For a vast, global city that boasts almost every amenity you can think of – not to mention one that gets sinfully hot in summer – Shanghai is shamefully short of options for an alfresco dip and for whatever reason, none of the big name hotels that have come to town in recent years have chosen to indulge us. Well the W has remedied that in style with the first pool in the city to make use of Pudong's famed skyline as its backdrop.
A hotel logo has been carefully placed bang in the prime selfie spot, a genius social media marketing move if ever there was one. Just beside the water, the hotel has also opened its signature cocktail bar, WET, for swimmers to ensure they stay properly, ahem, hydrated.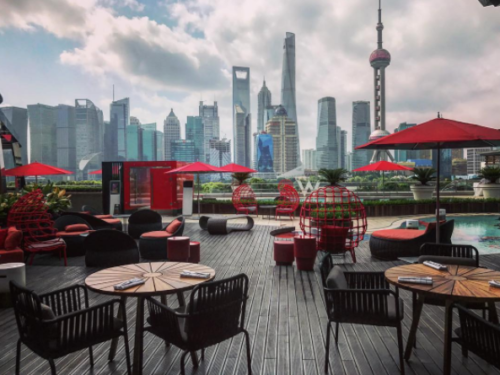 And the rest? We have hazy memories of boldly decorated rooms offering top notch river views, of minibars stocked with colorful candy and of hip young staff welcoming us to an upbeat soundtrack. It's all perfectly lovely, it really is, and precisely what we would expect from the W gang. But if we're checking in here (and if you want to swim, you'll need to – it's strictly in house guests only at the moment) you'll know where to find us. See you for cocktails by the pool, kids!
W Hotel Shanghai 66 Lvshun Road, Shanghai (Tel: 02286 9999). Rooms approx 2,000RMB per night.