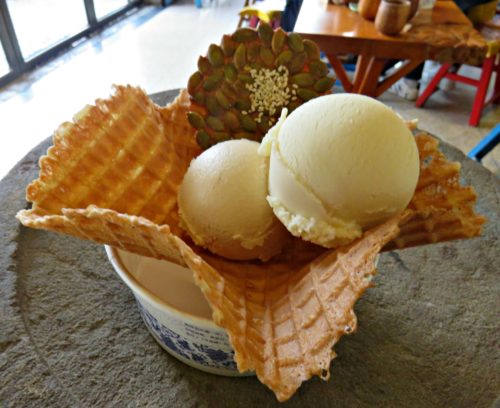 We've always said that  Xi'an has the best street food in all of China (and yes Chengdu, that includes you too). The city's Muslim Quarter, by our entirely unofficial reckoning, has a greater density of eateries than anywhere else in the entire country.
And while when presented with so many options it's hard to know where to start, there is a place at which we almost always know we'll end up. Shaanxi 13 is a funky little ice cream boutique staffed by a friendly local team serving up flavors that are exclusively drawn from Shaanxi, the province of which Xi'an is capital.
While you'll find a few traditional choices here, it's the more unique tastes that we'd suggest sampling. 'Fresh Tofu', for example, has an interesting smoky kick and is topped by a crunchy pumpkin seed cracker. But 'Black Rice Vinegar' is our favorite: more accessible than you'd think with both savory and sweet hits not unlike a salted caramel. A fun and defiantly local taste experience.
Shaanxi 13 is at Beiyuanmen 270 (Tel: 029 8726 5413). Want to see the best of Xi'an with Bespoke? Find out how to get in touch with us here.