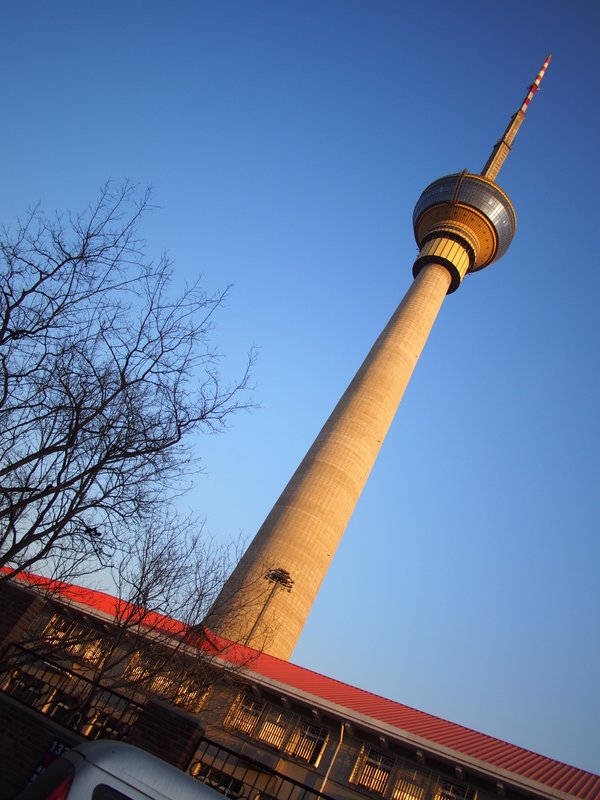 OK, so it's not exactly hidden, but the tallest structure in Beijing (402m) is certainly overlooked.
The Central Radio & TV Tower, not to be confused with Rem Koolhaas' CCTV Headquarters (a.k.a giant pair of pants), was built way back in 1992 in Haidian district, presumably in the hope that more development would follow. Instead the skyscrapers mushroomed on the opposite side of town, leaving the tower marooned out west in a low-rise neighbourhood far from the city sights.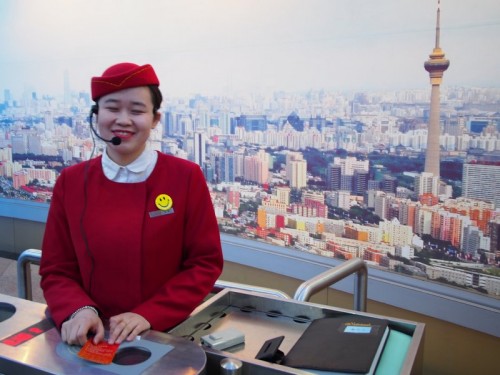 With its open-air viewing deck and revolving restaurant, it is, however, a tourist spot, so being the savvy travel company that we are, we paid it a visit.  What we found was an endearingly kitsch throwback to a more innocent time in China's capital, long before Olympic bids, art superstars and KFC.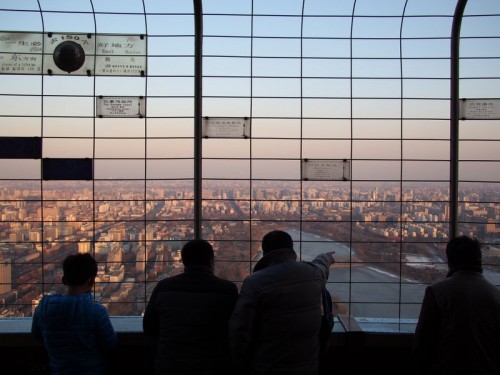 After checking in airport style, a lift whisks visitors up to a breezy 360-degree outdoor viewing platform at 238m, with placards pointing, bizarrely, to all sorts of global sights (the Easter Island statues was our fave – no we couldn't quite spot them).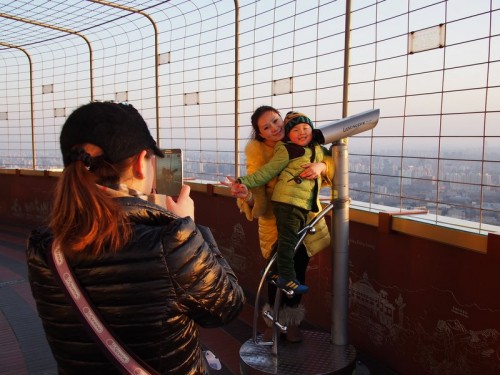 The viewing platform is dotted with mounted telescopes,which you can hire for 20 RMB for four hours. Four hours? The windchill would set in long before then. But fear not, for the good folks at the CCTV Tower also provide…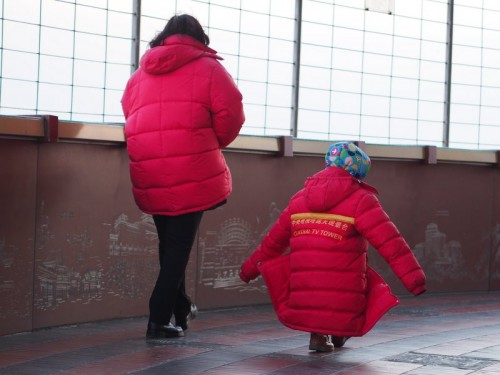 …free CCTV branded jackets! Which look doubly cute on little kids.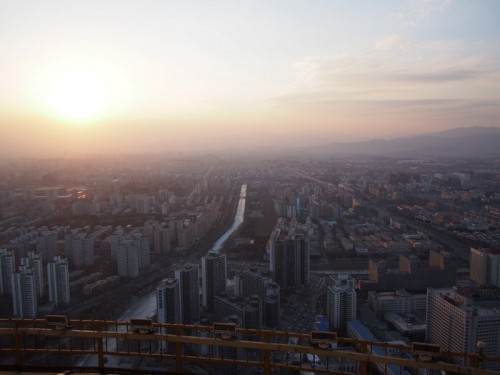 Being this far out of town, you don't get a clear view of anything of note aside from Kunming Lake at the Summer Palace, and a swathe of flat real estate in the distant heart of the city that denotes Tiananmen Square.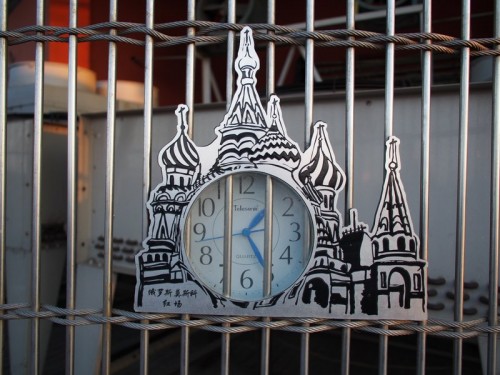 But there's plenty to keep visitors entertained aside from the view, like an array of curious clocks showing the times in various  countries, and a shouting horn which measures your decibels and displays them on a screen. There's even a giant model radio that plays Communist anthems. But all too soon, your four hours of telescope rental are up, so it's back in the elevator and down a floor to…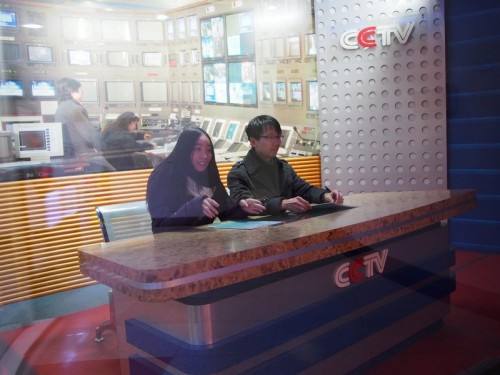 …this mock-up of a CCTV newsroom, where you can do your best Edwin Maher impression and have your photo taken. (Maher was an anchor on  CCTV's English-language station, fact-fans!)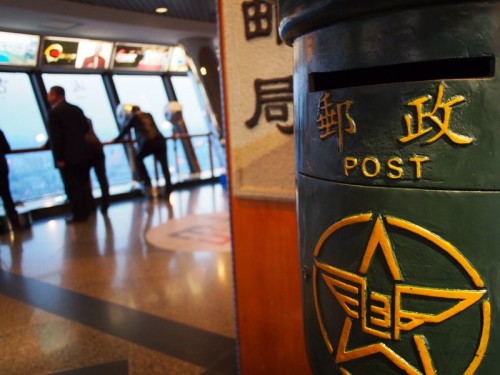 After that, you can go and grab a drink and snack in the interior viewing gallery, buy some CCTV branded souvenirs and post a postcard from the 'highest postbox in China' – they even stamp it with the logo of the Tower. Nice!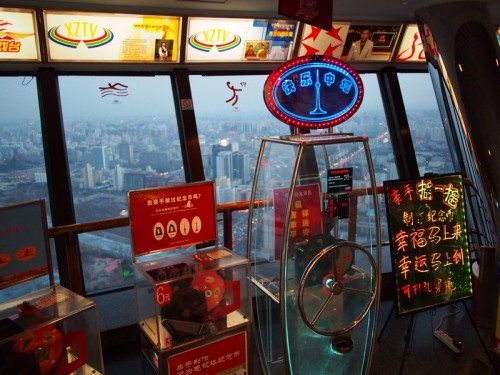 Remember those touristy sideshow machines where you crush a coin and stamp it with an insignia of the place where you are? The CCTV Tower has at least three of them!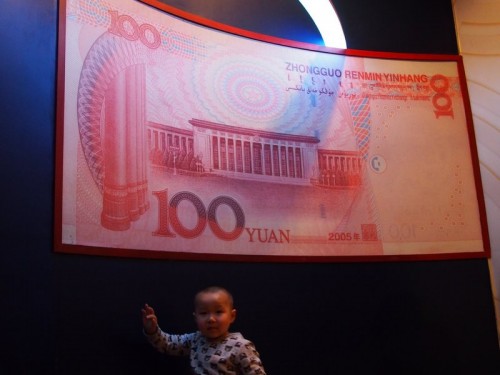 Next it's time to take a stroll along 'Culture Street', a walkable exhibit with a patriotic theme and lots of strangeness. As the 'East is Red' blares from speakers, visitors learn about the origin of beancurd and look at big pictures of money. Then there's a room full of giant-sized tin cups which you can climb inside, and a flag of China flying proudly next to a wind machine.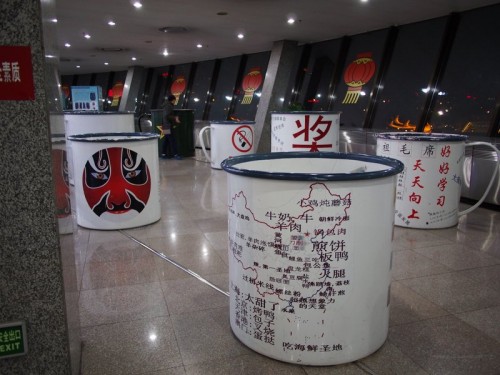 When your fun levels have peaked, you'll probably need refreshment. Below the Culture Street level is Beijing's original revolving restaurant at 211m high, serving a lunch buffet (150 RMB) and a 'lobster' evening buffet at 298 RMB. We can't comment on the food, but the view is nice.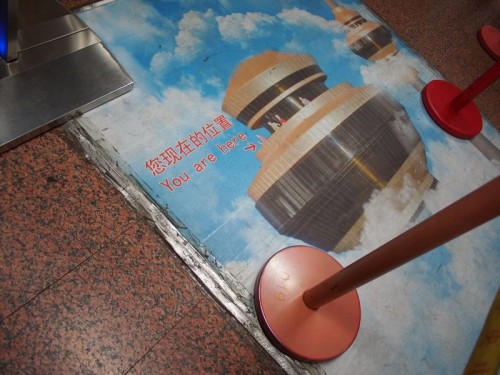 As you can probably tell, our mission to climb the CCTV Tower turned into a whole lot of kitsch fun. In the car park, a tourist information recording was playing on loop that was so hilarious we recorded it, and then turned it into this little spoof promo reel, together with our photos. Enjoy!
---
About the author: Tom O'Malley is Propaganda Secretary at Bespoke Beijing. A lifestyle journalist, guidebook author, glutton and bon vivant, Tom is a tireless crusader for fine food, hospitality and tourist experiences in China's capital.